2021 Summer Beach Volleyball Leagues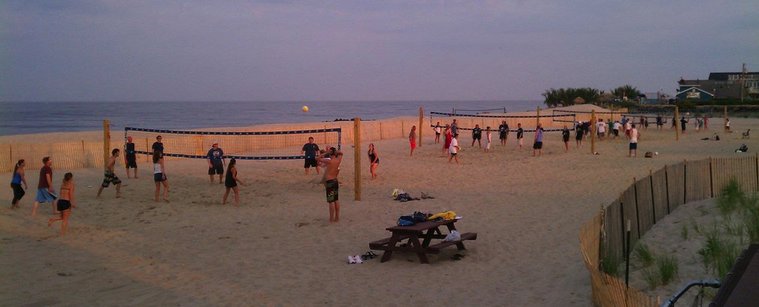 Ten Summer League Options
Monday 5:30 - 6:30 (Fun 6's)

FULL

Monday 6:30 - 7:30 (Fun 6's)

FULL

Monday 7:30 - 8:30 (Fun 6's)

FULL

Tuesday 5:30 - 6:30 (Fun 6's)

FULL

Tuesday 6:30 - 7:30 (Fun 6's)

FULL

Tuesday 7:30 - 8:30 (Fun 6's)

FULL

Wednesday 6:30 - 8:30 (Competitive 4's)

FULL

Thursday 5:30 - 6:30 (Fun 6's)

FULL

Thursday 6:30 - 7:30 (Fun 6's)

FULL

Thursday 7:30 - 8:30 (Fun 6's)

FULL
(All Leagues are co-ed, with no minimum gender requirements)
Co-ed, no gender minimums
11 weeks of games (less unexpected cancellations)
All equipment provided
Free T-Shirt for every player
Free weekly post-game "benefits" @ Donovan's Reef
Prizes for top teams
$300 to $360 per team (no referee fees)

Dates: Leagues start June 7/8/9/10. Leagues end mid-August (Rain-out in final week will be postponed to following week).
Location: Sea Bright Public Beach
Registration Capacity: Each league is capped at 12 teams. Unlimited number of players allowed on each roster. Captain must pay the full team fee to have your team spot reserved. If paying by cash or check (rather than by card online), please let us know at seabrightvb(at)gmail(.)com
Free Agents: Individuals who do not have a team can register online as a free agent at no cost. If a team picks you up, you will then work out payment with that team's Captain.